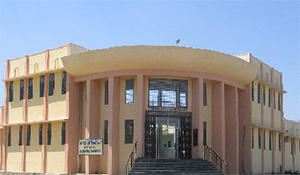 The Department of Mining Engineering is a part of College of Technology and Engineering (C.T.A.E.), a constituent college of Maharana Pratap University of Agriculture & Technology, Udaipur for imparting education in Mining Engineering.

The Department of Mining Engineering was established in 1957 in Udaipur – the city of lakes, gardens, fountains and center of most of the non-coal mining activities of country to impart diploma in mining and mine surveying.

In 1996, the department was raised to degree level to cater the demand and need of the sector with an annual intake capacity of 20 students. The students with 10+2 as minimum qualification are admitted through RPET (State level admission test) and AIEEE (National level admission test). Efforts were made to include the dimensional stone technology in the curriculum that resulted in the fact that this is the only degree level college in mining engineering which imparts in dimensional stone technology as thrust area. It is the need of hour since approx 90% of the country's marble mining activities are in its vicinity only. It is needless to say that in conventional mining teaching also we have an edge, due to our locational

The department has its own new building with all infrastructure facilities and modern well equipped laboratories i.e Mine computing laboratory, Rock mechanics & Dimensional Stone Laboratory, Environmental Laboratory, Geology Laboratory etc. Classrooms are well equipped with the modem teaching aids like OHP, LCD and Computers etc.

In the institute, approximately 3000 books related to Mining Engineering in College library and 225 books in departmental library are available. In addition to this 13 national and International Journals related to Mining Engineering ae subscribed.

In a short duration, department has attained remarkable achievements in fields of teaching, research and extension. The faculty members had kept pace with the technological advancements to pass on the best of their part to the aspiring scholars. The department has approved PG courses in two disciplines, Mine planning and Mine Environment, and Doctoral program. The department also solves industry problems through research activity and scientific consultancy. Our department is situated in the heart of mining activities, so that students get practical exposures with theory part. We have a unique way to imparting field based knowledge, in which guest faculties from renowned fields like DGMS, DMG, IBM, HZL, RSMML are invited.
Services Offered
Mining
Design of mining projects
Preparation & Evaluation of feasibility reports.
Financial analysis of mining projects.
Determining productivity and techno-economic aspects of projects.
Production planning and grade control.
Re-modelling of old mines for introduction of advanced mining technology.
Geotechnical Investigations
Physico-mechanical properties.
Geotechnical investigations for slope stability.
Pit slope design.
Blast design and blast vibration analysis
Field geotechnical instrumentation monitoring.
Design of dimensional stone extraction.
Geology
Survey of mineral properties and preparation of mine plans and sections.
Preparation of geological plans.
Formulation of schemes of exploration and cost estimate.
Evaluation of mineral deposit.
Geostatistical evaluation of mineral deposit.
Preparation of detailed resource appraisal reports.
Collection of samples for laboratory analysis.
Safety Management
Developing safety management system in mining.
Risk analysis and preparation of management plan.
Safety audit.
Environment
Generation of environment baseline data.
Preparation of REIA, EIA and EMP.
Environment Audit.
Training programme with the collaboration of Industry for skill upgradation of qualified persons working in Dimensional Stone and other areas
Training to supervisory staff and managerial staff of mining in general and dimensional stone in particular.
For further information, please contact:
Dr. Anupam Bhatnagar
Head, Department of Mining Engineering
College of Technology and Engineering
Maharana Pratap University of Agriculture & Technology, UDAIPUR- 313 001 INDIA
Ph: 0294-2471379 Fax: 0294-2471056
Email: anup10@rediffmail.com
Objectives
To produce skillful and quality engineers to suit the industry.
To develop means of scientific and eco-friendly mining
To support the industry to enhance the techniques for their mining by providing databank, testing facilities, suitable consultancy and training facilities
Mining Camp

Mining Camp

Mining Visit

Mining Visit

Mine Machinery

Practical Training

Practical Training

Coal Mines Practical Training

Coal Mines Practical Training

Coal Mines Practical Training

Flame Safety lamp in Practical Training

Methane testing in Practical Training

Practical Training

Lamp room Practical Training
Vision & Mission
The Mining Engineering education is developing in the country in recent past. Over the years, there were a few but very prestigious institutions, which were engaged in imparting education in Mining Engineering.

The department of mining engineering, CTAE, MPUAT was established in 1957 for imparting diploma education. Over the years, the department have gained prestigious status vis-à-vis diploma education is concerned. The laboratories, facilities and curriculum were at par with all other institutes in the country, even some of the leading degree colleges. The students passed out, are serving in higher positions in the industry.

In light of growing demand of the industry, the department was raised to degree level, in 1996. The admission is through RPET. Subsequently first batch was passed out in year 2000. In short duration of time, this department has attained the status of significance in teaching, research and extension.
After successful running of the degree program the PG program is proposed to be started.

The key result areas (KRAS) while commencing postgraduate level of teaching will be as under:

Teaching: In view of the present trend of higher education in Mining Engineering, the courses are so designed that it will be successfully cater the need of the industry in general and newer technologies in particular.

Research: In light of the present needs and future estimates of the burning needs of the industry, capital-intensive project and research work will be taken up to develop capital- saving technologies. The major thrust areas will be Dimensional stone industry and the environmental pollution. The industries surrounding the Udaipur is facing threat of closure due to the environmental problems and subsequent high Court blanket ban on mining
Research project by staff members related to above thrust areas
Centre of excellence related to dimensional stone technology
Holding of National/International seminars/symposia/workshops
Consultancy work to solve industry problems related above thrust areas.
SWOT analysis
Strength

Situated in heart of mining areas
Well Qualified faculty
Good infrastructure facility
Scope of research work in surrounding mining field
Scope of consultancy

Weakness

Relatively new degree programme

Opportunity

New PG and Ph.D programme
Enhanced industry institution partnership

Threat

The recession may affect placement scenario and which may impact student attraction towards mining
Implementation of this vision will make Department of Mining Engineering a lead in mining education field and will play a significant role in nation building. activities in the region. In light of the burning problem, researches through funded projects, students project and other sources are proposed to be taken up in the proposed duration. Also Technologies of water resources are also proposed to be looked at.
Extension: The department of Mining Engineering is situated in the heart of non-coal mining activities of country at Udaipur. It is most suitable in catering the extension needs of the industries. Also the department is doing the consultancy work for the technical up-liftment of the industry. In light of the pollution and environmental problems in the region, it is proposed to do some joint extension and consultancy projects in the duration. This beneficial association will add to the advantage of human resource development and quick placement of our students. Promoting eco-sustainable technologies and eco-friendly substitutions for modern day environmentally unsustainable technologies will receive our focused attention.
Emerging Thrust Areas/Issues
Dimensional Stone Technology
Rock Blasting
Mining Technology for Low grade minerals
Geotechnical Study
Soft Computing
Strategies and Specific program to address the new thrust area
The following strategies and specific program will be followed for all above thrust areas:
Research work by students related to above thrust areas during B.Tech/M.Tech./Ph.D program