National Seminar on Broadband Technologies for ESDM Sector: Indian Perspectives-September 4, 2015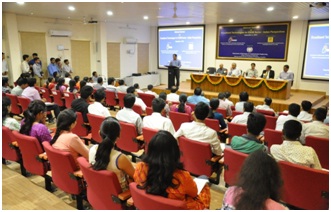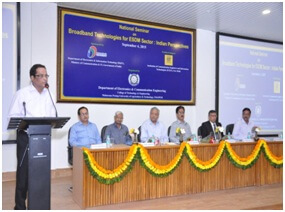 The Department of Electronics and Communication CTAE organized a national seminar on broadband technology for ESDM sector Indian prespectives on 4th September 2015.
Making Engineers for 'Make in India'
India is one of the fastest growing markets of electronic products in the world. Till today, we are solely consumers and do not have adequate growth in indigenous manufacturing in electronics core sector. The Electronic System Design and Manufacturing (ESDM) sector is now expected to grow and generate a real boom in core electronics sector by year 2020, leading to creation of millions of jobs in the core sector. Further, the indigenous manufacturing of Chips and Electronics Systems would raise the prospects for various other engineering branches and material sciences.
The question is whether academic institutions are prepared and competent enough in terms of quality of human resources to meet the future industrial demands for 'Make in India'?
YES--- Department of Electronics & Communication Engineering, College of Technology & Engineering, Udaipur, is indeed making intense efforts in imparting quality technical exposure to engineering students to make them employable.

The students are imparted pedagogical training with extra emphasis on the design and practical skills rather than black-box studies. This helps in developing design and innovative aptitude of engineering professionals. The students are actively involved in R&D projects pertaining to VLSI, Embedded System Design, ASIC Design & Development, Latest generations of Microcontrollers & Sensors; IOTs; Wireless Communication based projects. A realistic technical exposure is imparted to the students to make them ready and employable for the global industrial environment.